So the Olympics just end. I don't know what to do with my life anymore. For the past two weeks all I have done with my spare time is watch the live-stream of the Olympics on the CBC website. Outside of the Olympics I do not care much for any kind of sport, but during the Olympics are I all about that life. Let me just tell y'all how much I love the Summer Olympics. On a scale of one to ten, I would say a solid one hundred. I have over exaggerated because that's how much I love them. I get so inspired by the athletes to follow my dreams . They make me want to put the ice cream down and start exercising with their ripped bodies. I am like I could have that body too but like sitting . I get so emotional watching these people perform for their lives. Four years of training and it all comes down to one or two days of competing. Also black people from around the world get to shine. If  I am being honestly don't care what country they are performing for I am like "you go you black person get that medal". Unless its Zimbabwe vs Canada then it's personal dilemma. Like when Canada played Zimbabwe in the soccer game. I couldn't even watch the game cause I was torn.But a part of me really did want Zimbabwe to win.
I think I love the Olympics so much because I have secretly always want to be an Olympian. I don't even want to win anything I just want to be in them. But I am not in top physical shape so I will just stick to watching them, but if sitting on your ass was sport I will be winning all the medals. Since it too late for me to pick a sport, I really want to be rich enough to be able to fund . So they can make their dream come true by competing in the Olympics.
What are my favorite sports to watch ?
#1 Track and field mostly running, so many thighs and donkey butts.  I like running because its instant results. Judges don't have decide who won.
#2 Swimming ,so many abs                                                        👌👌👌
#3 Gymnastic, so many biceps                                                   👌👌👌
Some Honorable Canadians
Andre De Grass 21 Sprinter 3 medals. He is coming for that in gold #tokyo2020. 👏👏👏👏👏
Penny Oleksiak 16 year old  Swimmer with  4 medals👏👏👏👏
Jennifer Abel 24 Diver.  I really wanted her to win but she got 4th place.👏👏👏👏👏
Highlights
Etenesh Diro 25  Ethopian Runner. She ran the 300 meter race for the semifinals someone stepped on her shoe and the shoe came off. Whilst she was struggling to put the shoe  back on and everyone was passing her. She got frustrated so she throw her shoe to the side and rain for her life. The sock was slipper and she took that off too. Home girl was running with one shoe on. The crowd went nuts cheering for her .She was in the last spot and she passed 11 people with one shoe . If that's not note worth I don't know what it is. I desperately wanted her to win. I love an underdog. She ended up in 7th Place. She didn't win but she won my heart.😭😭😭😭😭😭🙌
Fu Yuanhui  20 Chinese Swimmer said it like it is. When a reporter asked if she was feeling well she straight up said "no my stomach hurts,I got my period last night". Its was nice to hear someone say period . Since half of the world's population goes through this but no one like to hear it . I was glad she said . I will just stop here because this is my a don't even get me started topic . I also LOVE her winning face that is exactly how I would smile if I won! 🙌🙌🙌.  
Simone Manuel 20 USA Swimmer 4 medals. The first Black woman to win gold in an individual swimming event . 😭😭😭😭😭😭🙌
Simone Biles 19 USA Gymnast 5 medals in her first Olympics.  😭😭😭😭😭😭🙌
Micheal Phelps 31  USA Swimmer. He has 22 medals. 18 gold!!! like how ???? 2 silver 2 bronze. I can't even swim. Also are you hot? I don't know because  your body is telling me "yes" but your face is telling me "meh". 🙌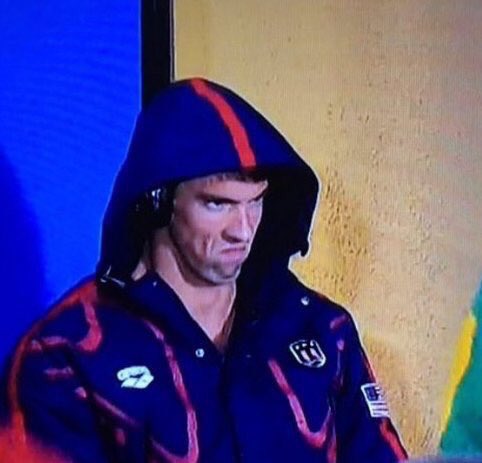 Usain Bolts 29 Jamaican Sprinter 3 gold this year. Seriously who has time to take a picture during a race and still win. This man is legend. 👏👏👏👏👏
Also can someone send me to Tokyo to cheer for Canadian athletes like they send Leslie Jones to cheer for US Rio 2016 I should start a gofundme so I can make this happen #tokyo2020
*I pray this happens to me 🙏🙏🙏🙏🙏*